ISBONA Newsletter
The Icelandic Sheep Breeders of North America is very proud of its newsletter.
This professional quality publication is only made available to current ISBONA members.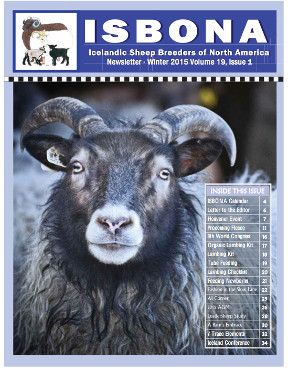 The newsletter editor welcomes member contributions. Articles of interest to Icelandic sheep enthusiasts include articles about Iceland, sheep husbandry, lambing, grazing and feeding, personal farm profiles, working with the fleece and wool, fencing and housing, guard animals, etc. Articles from non-ISBONA members that would be of interest to our breeder members may also be submitted for consideration. Deadlines are September 15th, December 15th, March 15th and June 15th.
Advertising in the ISBONA newsletter is a bargain relative to other sheep publications and reaches over 200 sheep breeders quarterly! Black & White Ads: Prices range from $35 for a full page to $10 for a business card size ad. Color Ads: A full page color ad is only $200 and a half page color ad is $100. For more information on advertising with ISBONA and discount rates, contact the Newsletter Advertising Representative.
Here are some samples to download: