The Iceland Breed of Sheep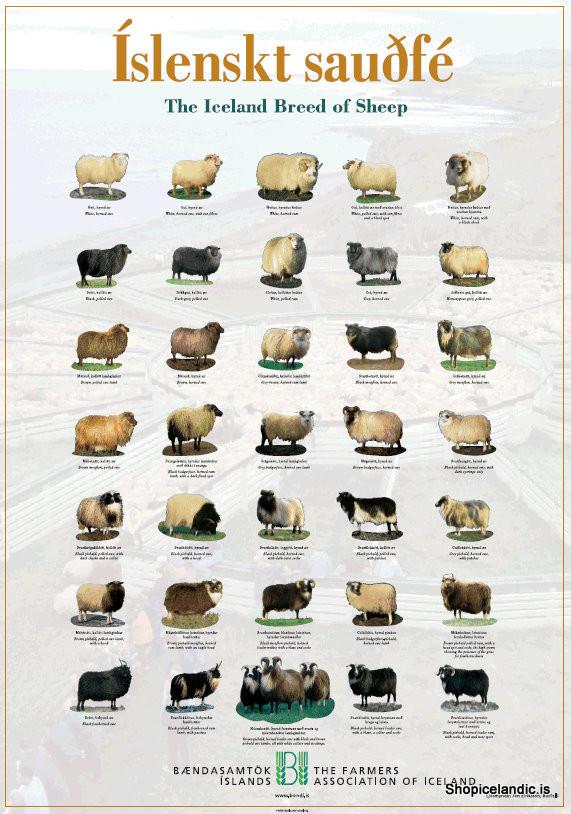 Please note: shopicelandic.is does not appear on our posters. shopicelandic.is is an on line store that offers these posters as well as other fine gifts from Iceland.

ISBONA is pleased to offer a limited number of these unique high quality posters to ISBONA members and non-members.

The poster is called "Islenskt saudfe", "The Iceland Breed of Sheep" and depicts 35 different Icelandic Sheep in full color with the Icelandic name for each. The poster measures 24" by 34" and is printed on thick glossy high quality paper.

Poster cost:

The price to members is the same as if you were able to buy directly from Iceland: $25.00 plus shipping/handling (S/H).

The price to non-members is $35 plus shipping/handling.

Shipping and handling will be USPS from ZIP code 65041 to your ZIP, and handling will include $2.00 to cover the cost of the protective mailing tube. Prices for S/H will likely range between $10 and $20, depending on your location. The least expensive shipping option from Iceland is about $24 for one poster.

Because our supplies are so limited, orders will be be limited to no more than 2 posters per person.

To Order:

1. To reserve a poster, please send an email to ISBONA Librarian, Connie Millard, at dutchdog@hughes.net, providing your name, address, city, state/province and ZIP code, along with the number of posters you would like.

2. Connie will compute the postage required and will email you back with a final cost quote. Unfortunately, we are not able to determine a flat rate for shipping since mailing tubes require special handling based on weight and destination. All posters will be shipped using USPS domestic or international parcel rates.

3. Once you receive your final cost quote, email Connie to let her know you have received your quote and that you will be sending her a check.

4. Please send a check made out to ISBONA for your quoted amount to:

ISBONA
c/o C Millard
1542 Weeks Rd
Hermann MO 65041

No other payment mechanisms will be accepted, so please do not ask. Checks drawn on US banks are preferred.

5. When your check is received, your poster/s will be promptly mailed out.

6. Please do not send checks in advance, since we will be fulfilling orders based on date the S/H estimate was mailed to you as well as the date your check was received.

7. If you reserve a poster and your check is not received within 14 days, your reservation will be cancelled, and the next person in line will be given the opportunity to buy a poster.

Order Now!

When we are sold out of posters, we will close this offer. If we sell out as we expect, ISBONA will explore ways to obtain an additional supply of posters at a reasonable cost.