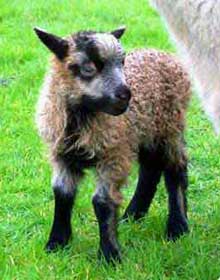 A gene has been found in the Icelandic breed that causes multiple births of triplets, quads, quints and even sextuplets, if the ewe carries two copies of the gene. One copy of the gene causes a milder increase in fertility, resulting primarily in a higher rate of triplets. The Thoka gene, as it is called, is named after the first ewe known to carry the gene. It is similar to the Booroola gene in the Merino sheep.

Ewes are seasonal breeders, most coming into heat in late October. They will continue cycling until spring if not bred. Rams are sexually active year round, and the ram lambs can start breeding at 5-6 months.

Lambs mature early and ewe lambs commonly lamb at 11-12 months of age. Icelandic ewes are bred as lambs, and many remain productive until age 10 or longer.

Prolificacy is quite good, on average 175-220%. Triplets are not uncommon and many Icelandic ewes are very capable of nursing triplets without assistance.